Protecting your paved asphalt surfaces with sealcoating is a smart way to get more out of your investment. As an experienced asphalt sealcoating company in Mt. Washington, KY, MVP Paving and Sealcoating will make sure your asphalt is properly protected against wear and tear, as well as the elements. Let us deliver a high-caliber finish to your asphalt, raising its appeal and resilience.
What is Asphalt Sealcoating?
Sealcoating is a bituminous-based product (sometimes acrylic) that's applied to the surface of asphalt. When it cures, it protects asphalt from degradation and weathering—including from cars, UV light, precipitation and more. These things will all wear down the asphalt with time. Sealcoating adds a protective barrier to stop the damage. It's non-stick and non-slip, and won't change the appearance of your asphalt except for adding a slight shine to it.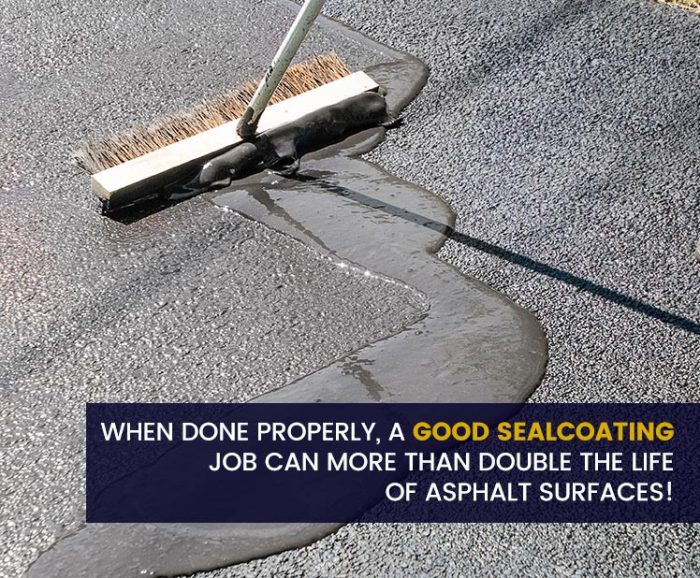 Sealcoating is generally applied via brushes or rollers, right on top of asphalt. For best results it should be applied to freshly-paved asphalt or surfaces that have recently been patched or refinished.
The Benefits of Sealcoating
Asphalt sealcoating services in Mt. Washington, Bullitt County, Shepherdsville, and Louisville, KY offer a number of great benefits that make them well worth the investment. Some of the biggest advantages include:
It can prevent cracking, potholes and divots from forming on the surface;
It seals the surface and protects asphalt aggregate from rainwater and erosion;
It prevents the dehydrating effects of UV light that might otherwise crack asphalt;
It reinvigorates the surface appeal of your asphalt, adding a glossy, subtle shine.
Get Sealcoating for Asphalt Services of Any Kind
Take advantage of the benefits that asphalt sealcoating has to offer and let MVP Paving and Sealcoating help you preserve the integrity of your paving. Contact us today at 502-492-2323 to learn more about the benefits of sealcoating or to get a free estimate on your job. We offer sealcoating for newly paved surfaces, as well as recently repaired asphalt.